Incorporate Aromatherapy in Your Massage
Aromatherapy is the use of essential oils. The oils come from plants, shrubs, trees, herbs, bushes, flowers, fruit, roots, and seeds. Aromatherapy has been around for thousands of years. It has been used in the perfumery business along with healing even before the ancient Egyptian time. It is used to aid in healing, the maintenance of health and the prevention of illness. It also enhances physical, emotional, and mental well-being along with the spiritual body.
Open a bottle of beautiful essential oil and come on a sensory journey with me!
Essential oils are highly condensed and should be used with extreme caution and understanding. Skin irritations, allergic reactions, toxicity are just a few reactions that may occur without the correct knowledge of how to use or apply essential oils.
There are many ways that I use essential oils in my practice. I add them to my massage oils or apply to the body when I see fit. Check out my massage page to be enticed by my fabulous Aromatherapy Massage. Book a consultation with me so we can work together to create a special blend just for you.
AROMATHERAPY MASSAGE
90 min: $140  | 120 min: $175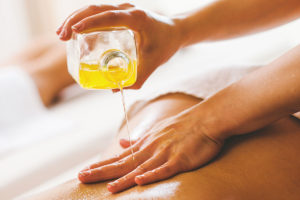 Come on a sensory journey with me. After a brief consultation, the information I gather helps to create a special blend of relaxation techniques designed just for you. Unwind into bliss as you are wrapped in warm blankets after having your blend applied to you. While the essential oils work their magic, drift away peacefully during a face and scalp massage, followed by a full body massage using your special blend. Yummy! Need 24 hours notice to properly set up for this service.