Reflexology Sessions
What to Expect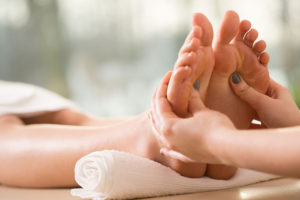 All sessions consist of a consultation with my client to take a brief history. This will help me gather important information to better design the perfect session for you. Once you remove your shoes and socks, your session takes place with your lying comfortably on my table. Special touch techniques are then applied to your feet, hands, and outer ears. Massage may be added to any of the following reflexology services. Please inquire 
BASIC INTEGRATED SESSION
60 min: $90 | 90 min: $130
The basic session includes having Reflexology on your feet, hands, and outer ears. This session is very relaxing, easing tension, aches, and pains as it affects your parasympathetic nervous system and focuses on various reflex areas on your feet, hands, and ears corresponding to different areas in your body. Great health benefits are realized as I take you through your session because I incorporate all systems in your body, not once, not twice but three times by reflexing your feet, hands, and ears.
INTEGRATED SESSION with PRIORITY REFLEXOLOGY
60 min: $90 | 90 min: $130
Achieving all the same wonderful benefits of a Basic Integrated Session, the Priority Reflexology is geared toward those who have specific concerns that need to be worked on, i.e., lower back pain, Irritable Bowel Syndrome, anxiety, etc. I work on the hands, ears, and feet with focused emphasis on the client's specific problem areas.
---
History of Reflexology
Most people think reflexology is a recent "alternative" health concept; however, it actually began in the 1900's gaining great acclaim in the 1930's. Since the 1980's, it has been offered by just about every spa in California and throughout the rest of the United States and Canada.
From the Documented History of Reflexology: In 1917, William Fitzgerald, M.D., USA, in his book, Zone Therapy, divided the body into ten wide vertical zones running the entire length of the body, with every part of the body being in one or more of the zones.  In 1924, Joe Shelby Riley, M.D., USA, in his book, Zone Reflex, divided the body into horizontal zones going across the body as well as across the feet and hands, with the tips of the fingers and toes corresponding to the head, progressing downward, with the heel of the feet and hands corresponding to the lower parts of the body. Unfortunately, both of these books are currently out of print. There are others written subsequently by current authors with essentially the same information. READ MORE
Benefits, Results, and After Affects: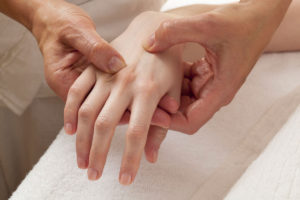 Reflexology is a science and study based on the principle that there are certain points in your feet, hands, and ears ("body maps"), which correspond to organs and systems of the body. Specific reflexology techniques are applied to the feet, hands, and outer ears.
Reflexology leaves you feeling relaxed, yet energized, and can help eliminate pain all over the body, such as in the neck, shoulders, and lower back just to name a few.