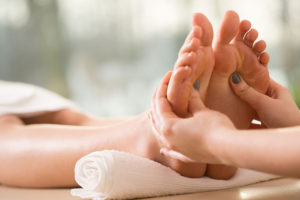 Reflexology is not a New Concept
Most people think reflexology is a recent "alternative" health concept; however, it actually began in the 1900s gaining great acclaim in the 1930s. Since the 1980s, it has been offered by just about every spa in California and throughout the rest of the United States and Canada.
From the Documented History of Reflexology: In 1917, William Fitzgerald, M.D., USA, in his book, Zone Therapy, divided the body into ten wide vertical zones running the entire length of the body, with every part of the body being in one or more of the zones.  In 1924, Joe Shelby Riley, M.D., USA, in his book, Zone Reflex, divided the body into horizontal zones going across the body as well as across the feet and hands, with the tips of the fingers and toes corresponding to the head, progressing downward, with the heel of the feet and hands corresponding to the lower parts of the body. Unfortunately, both of these books are currently out of print. There are others written subsequently by current authors with essentially the same information.
In the early 1980's at the American Academy of Reflexology in Los Angeles, California, William S. Flocco discovered that it is important to work with all three reflexology systems, the feet, the hands, and the outer ears. Mr. Flocco found that working on each system was effective, and knowing how to prioritize the work on the feet, hands, and ears, is most important for best results in eliminating pain and discomfort.
The resurgence of reflexology to relieve pain and suffering is currently at an all-time high, and when used in conjunction with massage, the results are effective, and the client can experience tremendous relief.